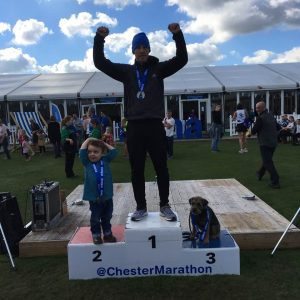 Topline Media was launched by me, Ian Leonard, in 2018.
I've been a journalist for almost 20 years and have a proven track record of producing stories that grab headlines.
My excellent news sense, ability to get to the heart of story and versatile writing skills have been key to securing commissions from national newspapers, magazines and online publications.
More recently, I've worked as a producer for BBC 5 live radio and collaborated with a Manchester-based PR agency on media campaigns for several big-name clients.
My work has involved covering major news stories, sport, travel, music, arts and entertainment, social affairs, consumer issues and other topics.
In short, I know a lot about what makes a good story and how to tell it to different audiences.
And my skills, knowledge and experience can ensure your business or organisation communicates effectively.
Although I can only dream of winning a marathon (the picture shows me sharing the podium with my son and dog) I'll put your interests first.